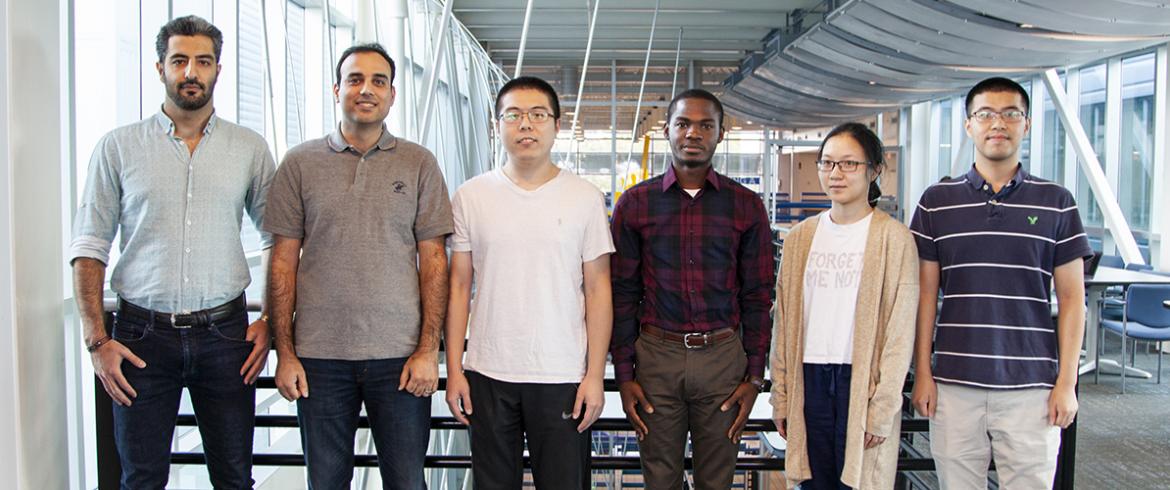 The Department of Civil and Environmental Engineering (CEE) at the FAMU-FSU College of Engineering recently honored six graduate students with the CEE Graduate Students Research Excellence Award. Each recipient will receive up to $1,000 that may be used for presenting a paper at a conference.
Sungmoon Jung is an associate professor of civil engineering and graduate advisor for Mohammad Reza Seyedi, one of the recipients of the award. Jung said the award is given out by the CEE graduate committee and recognizes students who have shown exemplary achievement in their research.
"The goal of the award is to recognize excellence in graduate student research," Jung says. "We think this will lead to the overall enhancement of our graduate program quality."
Each applicant was evaluated by the committee for journal publication record and presentation experience.
Mohammad Reza Seyedi was selected for his academic excellence in research that involves vehicle safety and structural crashworthiness. Seyedi said an award of this type is extremely beneficial to both students and the department. 
"Personally, this grant will help me to attend conferences and be able to present my research," Sayedi said. "Without this grant, I would not have had the budget to go. An award like this is very beneficial to a student's resume. I think it encourages them to be more productive."
Olumide Abioye was chosen for his work focusing on transportation engineering. 
"I am honored that my research throughout my graduate studies was recognized with this award," Abioye said. "Using the funds that come with the award will allow me to attend and present some of my research at one of the biggest transportation research conferences in the world."
This was CEE's inaugural kickoff for the award that is open to all CEE graduate students. 
Award Recipients
Olumide F. Abioye
Adviser: Dr. Maxim A. Dulebenets
Abioye's research is mostly dedicated to transportation engineering. His focus is operations research, freight transportation, intermodal freight facilities, optimization, simulation modeling, mathematical programming, metaheuristics, hybrid algorithms, evolutionary computation, transportation engineering, traffic safety and operations, connected and autonomous vehicles, liner shipping schedules and emergency management.
 
Masoud Kavoosi
Adviser: Dr. Maxim Dulebenets
Marine container terminals play a strategic role in global trade and berth scheduling is one of the most challenging problems for marine container terminal operators. During Kavoosi's Ph.D. program he worked on the development of three innovative metaheuristic algorithms to solve the berth scheduling problems.
 
Zhiming Zhang
Supervisor: Dr. Youneng Tang
Zhang's research focuses on biological wastewater treatment and resource recovery involving specifically, selenite. Selenite is a soluble contaminant existing in agricultural drainage, but it can be biologically reduced to insoluble elemental selenium nanoparticles.  Selenium nanoparticles are then recovered as a valuable resource in an innovatively designed system.
 
Runwei Li
Advisers: Dr. Gang Chen and Dr. Youneng Tang
Li has a multidisciplinary research background. His principal research interests are in areas of microbial and chemical fate and transport in subsurface. He also researches the biological processes for wastewater/landfill leachate treatment and agriculture production and greenhouse gas emission simulation at site/regional scale.
 
Yi Xiong
Adviser: Dr. Youneng Tang
Xiong investigates two ways to treat 1,4-dioxane, a groundwater contaminant detected throughout the United States. One method uses chemical amendments as primary substrates to promote 1,4-dioxane biodegradation (i.e., cometabolism). The other method involves pre-treating 1,4-dioxane with non-thermal plasma to convert 1,4-dioxane to readily biodegradable intermediates.
 
Mohammad Reza Seyedi
Adviser: Dr. Sungmoon Jung
Seyedi's research interests focus on vehicle safety, structural crashworthiness, and occupant injury assessment. He worked on the numerical (Finite Element and vehicle dynamics model) and experimental bus rollover crashes to evaluate the effects of vehicle performance on occupant injury risk using laboratory crash tests and real-world rollover crash data.