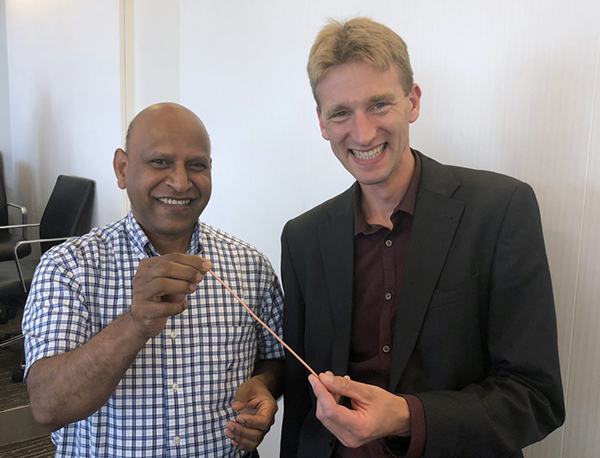 The Center for Advanced Power Systems (CAPS) at Florida State University announced today that it is part of a $1.6 million grant from the U.S. Department of Energy's Advanced Research Projects Agency-Energy (ARPA-E). The project is a partnership with lead organization Advanced Conductor Technologies (ACT), as a small business in the superconductor sector. Researchers from CAPS and ACT aim to design power-dense superconducting cables for electric aircraft.
"This funding really speaks to the successful, long-term partnership of CAPS and ACT," said Sastry Pamidi, chair of the FAMU-FSU College of Engineering's electrical and computer engineering department, and Associate Director of CAPS. "ACT has been a partner with us in more than 10 different projects, totaling over $1 million in research funds for the center's work."
In past projects, CAPS researchers have worked with ACT on their superconducting Conductor on Round Core (CORC®) cables for U.S. Navy electric ship technologies. The practical applications of ARPA-E's funded research focus on superconducting power cables for use in future twin-aisle electric aircraft with distributed electric propulsion.
"Electric aircraft require high power in smaller, lighter packages," Pamidi explained. "That means we need to make the power cables with a high power density. ACT's superconducting CORC® cables are perfect for that. Using our experience working on the technology for ships we will now be able to work on cables for electric aircraft."
The project team includes Pamidi and members of his research staff, ACT personnel, and Doan Nguyen, Ph.D., Director of the National High Magnetic Field Laboratory's Pulsed Field Facility at Los Alamos National Laboratory. 
ACT received this competitive award from ARPA-E's Topics Informing New Program Area's Connecting Aviation By Lighter Electric Systems (CABLES) Topic, for the development of technologies for medium-voltage (>10 kV) power distribution cables with fault current limiting abilities and cable connectors for fully electric aviation applications. 
 
"Our goal is to develop superconducting cables that will ultimately be able to deliver power of up to 50 MW to the electric motors of future aircraft, which is the power required during take-off of large twin-aisle passenger aircraft with 200 – 300 passengers. The cable technology would ultimately be applied to aircraft that would burn liquid hydrogen, which would also provide the cooling to the superconducting cables, enabling fully carbon-free commercial flights," according to ACT's van der Laan.  
For additional information about The Center for Advanced Power Systems and this project, please visit www.advancedconductor.com and www.caps.fsu.edu.