Alexis Riley is a senior industrial engineering student from Indianapolis and she's on a mission to make a difference as a woman engineer.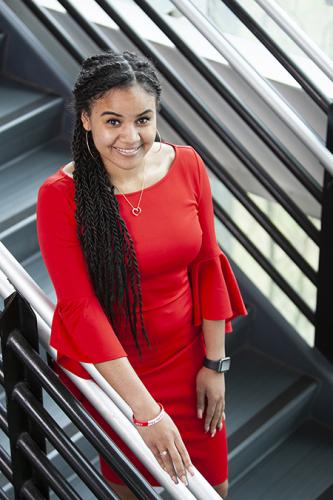 "The statistics show that only 13 percent of engineers in the field are women. As a double minority, as an African-American woman, I am determined to graduate," says Riley. "I will be graduating this spring and want to beat the statistics."
Riley is the president of the Student Engineering Leadership Board (SELB) and a Florida A&M University student. After graduation, she'll head to Ford Motor Company after graduation for her first engineering job. 
Riley wants students to know they have a resource in SELB if they need help. Members of the board come from different social and economic backgrounds and come to the table with different experiences and leadership skills. The board was formed to give a voice to students. 
"As president of SELB, I hope the board grows into a resource for students to utilize," she explains. "I want students to know we are here to help."
Riley says that SELB also works with the community in an outreach capacity. The group is working with MathPals, a mentoring service connected to the United Way of the Big Bend and with an aquaponics initiative connected to an area school. They are certifying engineering students to be tutors for MathPals and setting up a hands-on aquaponics curriculum at an area school as a way to engage and excite students about engineering. 
 
"I love to do volunteer work with kids, introducing them to STEM. There is nothing more rewarding than to introduce underrepresented kids to engineering," Riley says." Once we get the aquaponics system installed at the school, we hope to teach kids about different kinds of engineering. The curriculum will be centered around the aquaponics system."
Riley is a member of the National Society of Black Engineers (NSBE), Delta Sigma Theta Sorority Inc. and, also works with the FAMU-FSU College of Engineering Recruitment Team. 
Want to reach Riley or another SELB member? Send them an email.