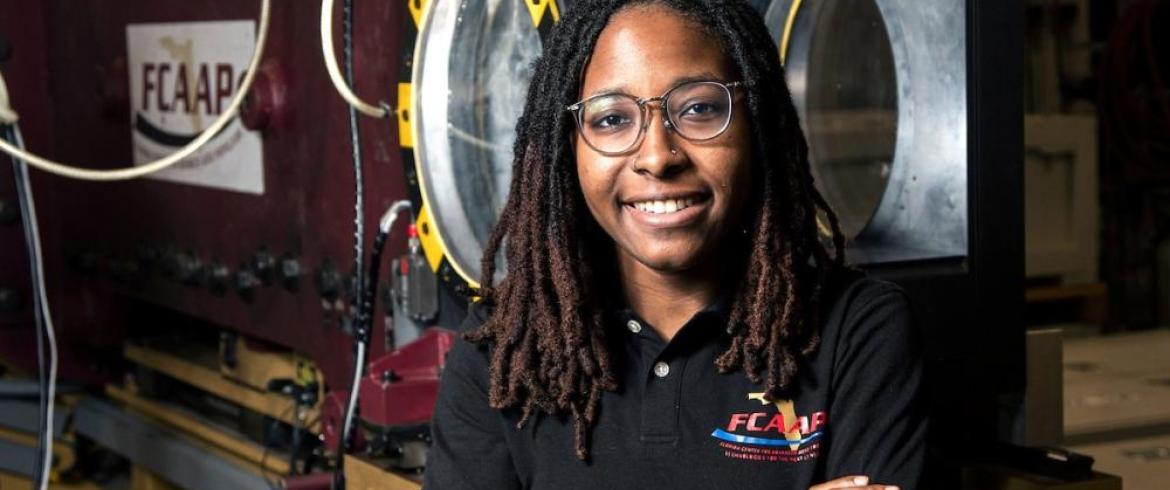 Graduate Student Spotlight
Like the female mathematicians portrayed in the movie "Hidden Figures," Adrianne Brown likes math, especially when it comes to space flight. Browns' undergraduate degree is in computational science, and the movie was a helpful example when she described her degree as an undergraduate to her fellow students. 
"I just remember telling my friends about my degree, saying, it is like Taraji Henson's character, Katherine, in Hidden Figures. It was something inspiring that people could relate to," Brown said.
Brown is a graduate researcher in the Florida Center for Advanced Aero-Propulsion (FCAAP) at the FAMU-FSU College of Engineering. She is researching the trajectory of projectiles, like missiles, and is interested in improving accuracy in flight. The second-year, Florida A&M University doctoral student in mechanical engineering hails from Houston, Texas. 
How did you get interested in engineering?
Being from Houston, NASA has always been a part of my life. I did the usual things, like going to space camp and watching the launches on TV. One of my teachers is even married to an astronaut. I think all that exposure triggered my interest in space and aviation. Eventually, that led me to pursue a degree in engineering. 
Who inspires you?
My parents always told me, "I could do anything if I put my mind to it." That gave me confidence. I said to myself, "I want to do this and, I know I can do this."
What brought you to the college?
The FAMU-FSU College of Engineering caught my attention because it has an equal mix between aerospace and mechanical engineering topics. FCAAP has state-of-the-art facilities that allow me to get experience that I can apply in the engineering industry after graduation.
Tell us about your research.
I am studying supersonic and subsonic missiles ejected from an aircraft and the ground. We are performing measurements and testing involving the non-uniform flow field near the projectile. The research provides insight into the flow field of vortex interactions and other phenomena related to slender bodies of revolution. The investigation has military and aviation applications.
Why is this important?
My research may improve missile trajectory accuracy. Whether a missile fires from a jet or ground, we want to understand what is happening during flight. The information we learn will also help improve the efficiency of supersonic jets. Some forces can cause it to get off its correct trajectory. Although it might only be off a few degrees, an error can quickly turn the missile off its course because it is flying at supersonic speed. The information we learn will also help improve the efficiency of supersonic jets.
What has your experience been?
It has been exciting and informative. From navigating through graduate school during Covid to working with the polysonic wind tunnel, I have learned many new things during my time here. Working with Dr. Rajan Kumar has been great. He is very passionate about his job and will do anything to help his students be their best.
Can you say more about the polysonic wind tunnel and working in the lab?
The PSWT uses compressed air to reach flow speeds up to Mach 5 (about 3800 mph). It does this by sending a large amount of air through a narrow nozzle, like when you put your finger on the end of a water hose to increase the pressure. 
The idea of discovery and solving problems is exciting. It is fun to hear the loud noises of the PSWT. You can watch how the test is going on a screen. It is hands-on, and you can get a different perspective. 
What do you like to do when you are not in the lab?
I like to work with wood and enjoy cooking. I was a four-year student-athlete at Georgia Southwestern State University. I played basketball for the college while getting my bachelor's in computational science. I also am involved with Sigma Gamma Rho, a historically Black sorority. It is a lifelong commitment to service and leadership in the community.
What do you look forward to in your career?
I plan to work in the engineering industry, maybe NASA or anything similar, like Boeing or SpaceX.
What advice do you have for students?
Do what you love, and don't let anyone discourage you from what you want to achieve. It is a cliché, but keep in mind, "If you do what you love every day, then you will never work a day in your life."