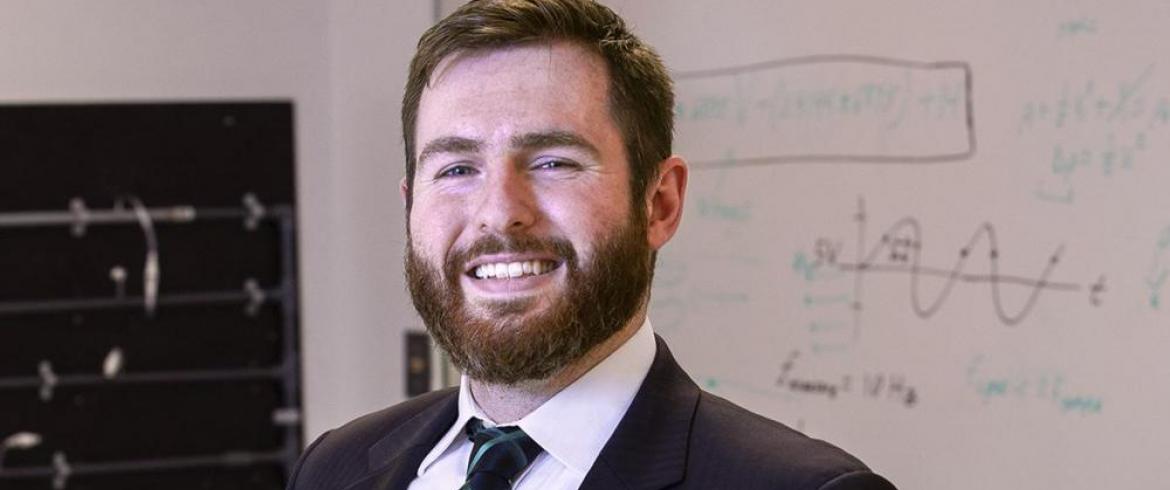 For someone as committed to service as Adam O'Neill, the appeal of simultaneously working in an organization on both the inside and outside was strong.
O'Neill joined the FAMU-FSU College of Engineering Student Engineering Leadership Board (SELB) outreach community to share STEM with the Tallahassee community and to serve his fellow students. He was drawn to the organization because it strives to make an impact both on the culture within the college and in the greater Tallahassee area by facilitating dialogue and sharing knowledge.
O'Neill recently graduated with a master's degree in mechanical engineering and serves as a graduate advisor for SELB. He's had a leadership role on campus since his first spring semester on campus, first in the Congress of Graduate Students and now on SELB. Most recently, he was inducted in the Florida State University Torchbearer Organization, whose members are engaged FSU students nominated for their service to the community. 
Before he finished graduate school, O'Neill had the honor to address FSU Spring 2019 graduates with a welcome at their commencement ceremony. 
"I focused on the idea that students need to see themselves as leaders as well as students," O'Neill says. "There is much more to yourself than your life as a student... We all wear many hats. Don't be afraid to go your own way when it is time to enter a new career or new opportunity. Be sure to present yourself as the full person you are."
In graduate school, O'Neill's research centered around understanding fundamental challenges facing aero-propulsion systems, namely turbulent separation bubbles. As an alumnus, he wants to continue his work in thermal fluids in industry—and service. 
"I hope to work for a company that has an engineering leadership development program," says O'Neill. "I want to find something like that with an aerospace firm so I can grow both as an engineering and a leader early in my career." 
Because he loves having the opportunity to help teach others, O'Neill sees this leadership aspect as a way to repay in kind the lessons of his own mentors and teachers.