FAMU-FSU Engineering and Florida A&M University graduate student Olumide Abioye was recognized for outstanding student paper this week at the 44th Annual Natural Hazards Research and Applications Workshop in Colorado. 
Abioye is pursuing his doctorate in civil engineering at the FAMU-FSU College of Engineering and presented his work to the jury during the event. According to the organization, the student paper competition highlights research for graduate and undergraduate students as a way to recognize the interdisciplinary nature of hazards and disaster research.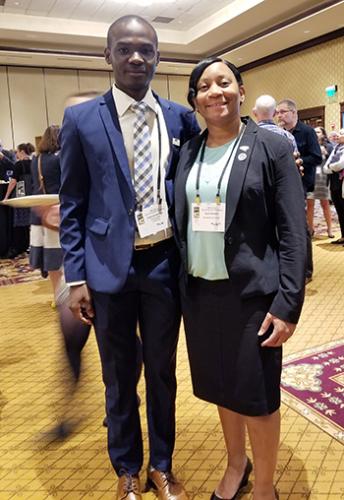 "I met this outstanding student at the Natural Hazards Workshop in Colorado this week," said Terri Norton, Associate Dean of Engineering, associate professor of civil and environmental engineering and Executive Director of Engineering Success Alliance at Bucknell University, who also attended the workshop. "[As an alumna of the college,] I'm so proud!"
Papers are "judged on contributions to knowledge, originality and organization," and one undergraduate and one graduate winner is chosen each year. As graduate winner, Abioye received $100, publication on the Center's website and an expenses-paid invitation to the workshop.
Abioye's paper titled, "A Novel Model for Emergency Evacuation Planning," focused on presenting a mixed-integer programming model that assigns individuals to emergency shelters through evacuation routes during available time periods. The research was based on emergency evacuation in Broward County, Florida, an area often hard hit by natural disasters.
The objective of Abioy's work is to minimize the total travel time for individuals leaving an evacuation zone. What makes his approach unique is the mathematical model takes into account for the effects of socio-demographic characteristics, evacuation route characteristics, driving conditions and traffic characteristics. Using his model, planners would be able to provide good-quality solutions within a reasonable computational time--in the brief period before a disaster hits.
Since 1975, the Natural Hazards Center at the University of Colorado, Boulder has hosted the Annual Natural Hazards Research and Applications Workshop in Colorado. The event brings together more than 500 federal, state, and local mitigation and emergency management officials; representatives of nonprofit, private sector, and humanitarian organizations; hazards and disaster researchers; and others dedicated to alleviating the impacts of disasters.