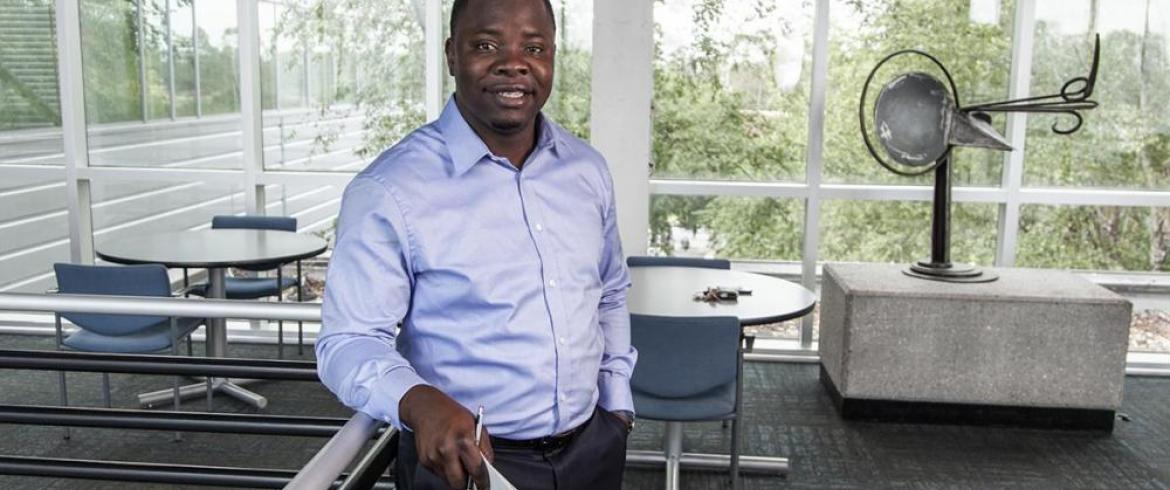 FAMU-FSU College of Engineering industrial and manufacturing engineering Ph.D. candidate and High-Performance Materials Institute (HPMI) research assistant Abiodun Oluwalowo has racked up several accolades since the first of the year. Oluwalowo is a Florida A&M University student at the college.
As lead author, his article "Electrical and thermal conductivity improvement of carbon nanotube and silver composites" was published in the May edition of the highly cited journal Carbon. In fact that was not the only article he had published in Carbon. In the April edition, he was a contributing author for the article "Carbon nanotube/carbon composite fiber with improved strength and electrical conductivity via interface engineering," in which another Ph.D. candidate from the same college department, Songlin Zhang, was lead author. 
In March, he and graduate colleague Madhuparna Roy were among eight nationwide winners for the 2019 SAMPE University Leadership Experience Award. The award included an expense paid trip to Charlotte, North Carolina to attend the SAMPE 2019 Conference and Exhibition in May. The SAMPE Conference and Exhibition is exclusively dedicated to advanced materials and processes. The event is produced by the North America Society for the Advancement of Material and Process Engineering (SAMPE), which brings together leading companies, engineers, scientists, and professionals from throughout the advanced materials and processes industry.
In April, Abiodun was awarded second prize at the FAMU 3-Minute Thesis and poster competition, presenting "Lightweight conductors using carbon nanotubes." The award came with a cash prize and an invitation to represent FAMU at the Miami completion.
In addition, Abiodun is a vital member of the HPMI team making up the NASA Space Technology Research Institute, which is conducting research to make materials lighter and stronger for deep space travel. In May, he traveled to the University of Utah in Salt Lake City, to update NASA officials on his work in the thermal characterization of materials being researched.