Diandra Reyes is a fourth-year mechanical engineering student from Miami. When she was a little girl her curiosity often got the best of her. 
"I like to take things apart. My mom would catch me unscrewing the backside of the TV sometimes," says Reyes. "After she screamed at me, I would always say, 'Mommy, it's an experiment, I just want to see what's inside.'"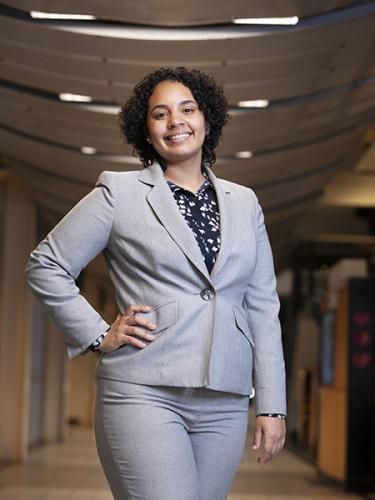 Luckily, Reyes' mother always encouraged her to explore, letting her follow her own path and allowing those early experiments. Wanting to understand the "why" behind the everyday process helped Reyes feel like she was born to be an engineer.
"No other major has the ability to bring a level of clarity and fulfillment like engineering," Reyes says. "At the end of the day, I believe I was born to be an engineer and nothing can ever make me think otherwise."
Reyes is a fabrication lab intern at FSU's Innovation Hub. 
"I plan to pursue my doctorate after graduation but I want to have some corporate experience before starting those programs," Reyes says. "I want to see how the corporate world works so that when I return to school I will have some experience to apply to what I will be learning." 
Reyes is currently vice president of the Student Engineering Leadership Board, an organization she joined to promote a legacy of community at the college. She hopes this will translate outside the college by setting an example.
"I don't expect an immediate culture shift, but I hope that the transferrable skills of interdisciplinary collaboration might show up in the world outside of college," Reyes says. "Engineering students have the opportunity to set an example."
Reye's cultural heritage is both Cuban and Panamanian and she is the first American in her family. She loves listening to music, watching movies and enjoying nature. She also is a member of the Society of Women Engineers and the FSU Center for Academic Retention and Enhancement.
"At the end of the day, the world we have been given is the perfect design for us to replicate. I love seeing how things naturally work," Reyes says. "Hopefully one day I hope I can see the world in a different way and apply that to engineering."