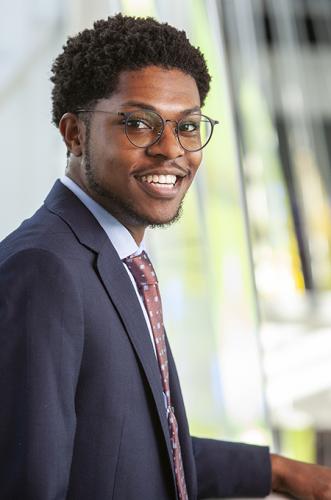 Bryan Anderson, a fifth-year industrial engineering student from Coral Springs, Florida, has a passion for solving problems, whether they are academic or practical. This dovetails nicely with his seat on the Student Engineering Leadership Board (SELB).
"In SELB, my team works to identify student's needs," says Anderson. "This year we worked with Career Services to find innovative ways to prepare students for the STEM Fair."
Last year, Anderson helped work with students and faculty on scheduling issues associated with the career event. When classes were suspended to allow greater participation, they felt like they'd really accomplished something.
He is also the captain of the Florida A&M University (FAMU) Honda Campus All-Star Challenge (HCASC) quiz bowl team, where student teams from Historically Black Colleges and Universities (HBCUs) compete head-to-head in a Jeopardy-style academic competition.
In addition to SELB, Anderson is a member of the National Society of Black Engineers (NSBE) and the Industrial Institute of Systems Engineers (IISE). At FAMU, he plays the saxophone in the Jazz Band, is a member of Alpha Phi Alpha, and even served in the university's Student Government Association.
Now a senior, Anderson interned at Dow Chemical Company, Northrop Grumman Corporation, and Florida Power and Light. He received the NSBE-Northrop Grumman Integrated Pipeline Scholarship. He is especially interested in looking at both the technical and non-technical issues of industrial engineering.
"What I appreciate about industrial engineering is it doesn't just consider the technical side of things. There's also a strong emphasis on the human components," Anderson explains. "For example, we take a course in ergonomics. We have to think about how to design a workstation for efficiency and an effective work environment for the company. But we also have to think of the worker. The area needs to be safe and we need to make sure we optimize the space to reduce injury."
Anderson has a tip for engineering students in their first year: "I encourage people to think about their interests." 
He believes that anyone with an interest in solving problems and natural curiosity about how things work should consider industrial engineering. 
"What engineers really do is solve problems and that mindset can be applied to almost anything," Anderson says.