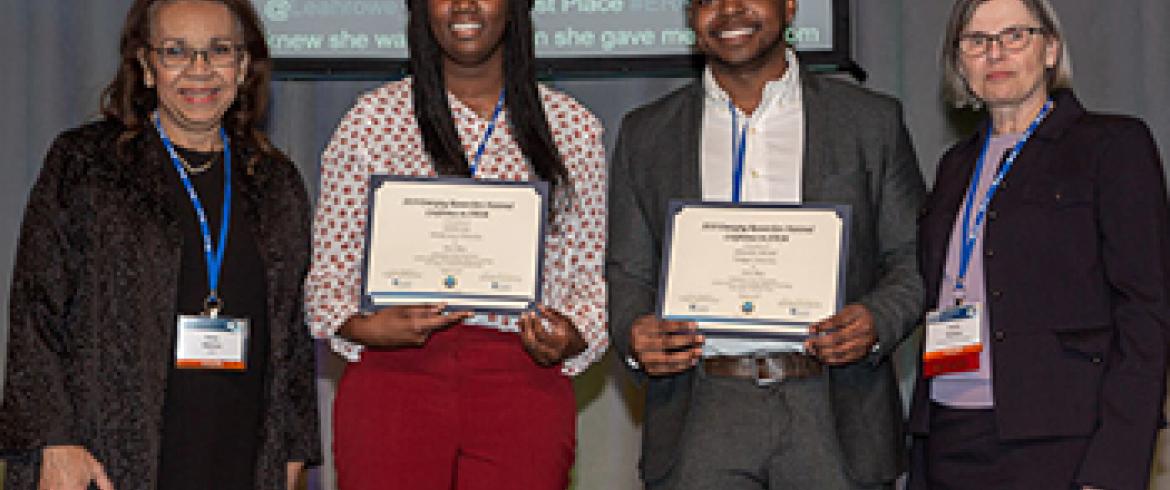 Two students from the FAMU-FSU College of Engineering placed first in the undergraduate and graduate technology categories at the recent Emerging Researchers National Conference (ERN) in Science, Technology, Engineering and Mathematics (STEM) event in Washington, D.C. 
Jasmine Gay, a mechanical engineering student won the undergraduate award and Sean Jackson an industrial and manufacturing engineering graduate researcher won the graduate award. 
The conference aim is to help undergraduate and graduate students enhance their science communication skills. The event also strives to help students learn how to prepare for science careers in a global workforce. It is hosted by the American Association for the Advancement of Science (AAAS) and boasts more than 1000 attendees this year.
Gay won in the Nanotechnology, Physics and Technology category. Her work involved editing the G-code on a traditional 3D printer to have it simulate a Dexter 3D printer. Adding a pause in the middle of each printing sample allowed her to test how the duration of the pause would affect the strength of the samples.
"It was really nice to win the award," Gay said. "It was really rewarding to see my research get recognized." 
Gay, a senior engineering student and is involved with several engineering organizations. She is a member of the Society of Women Engineers (SWE) and the American Society of Mechanical Engineers (ASME) and landed an internship with Exxon Mobile this summer. 
Jackson's award in the Technology and Engineering category recognizes his work in optimizing electrolytes for 3D printing of wire-shaped, dye-sensitized solar cells. His research seeks to improve dye-sensitized solar cell fabrication.
"Winning the award was really an honor," Jackson said. "Winning the competition was a great affirmation that I am doing good work here." 
Jackson is a working toward his doctorate in industrial and manufacturing engineering and is an officer with the FAMU-FSU chapter of the Society for the Advancement of Material Science. 
Jackson is not sure yet if he will pursue a postdoctoral position or work in the private sector after graduation but he is thankful for the many choices he has as a student at the FAMU-FSU College of Engineering.
"This is a great place to get my education," Jackson said. "I could not have achieved all this without the support of the college and my advisor, Dr. Tarik Dickens. "He has been instrumental in helping me follow a path to success."