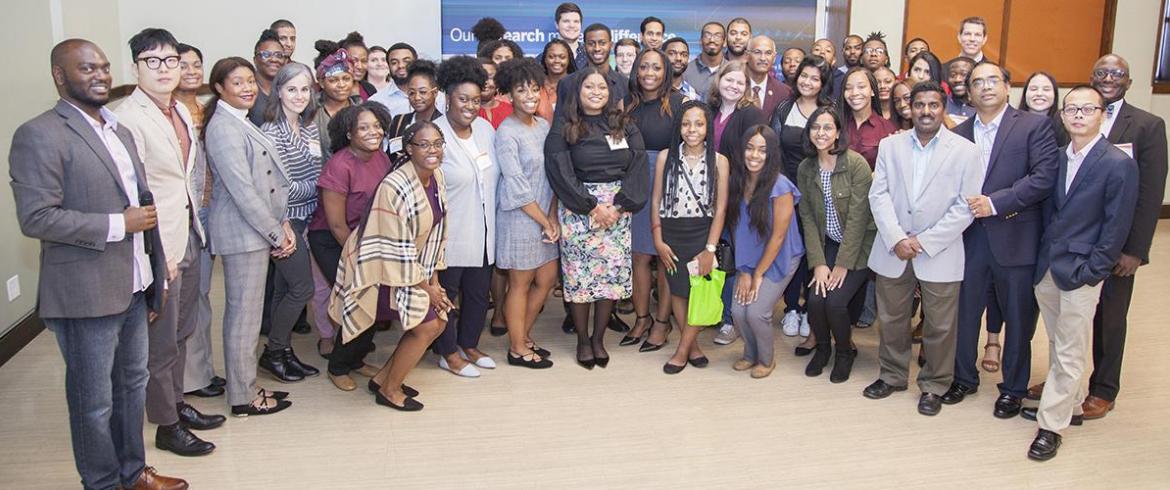 In the same way that "just in time manufacturing" once revolutionized the logistics industry, 3D printers and additive processes will change the way we order, obtain and use products needed for daily life.
Additive manufacturing—expected to be a $1 billion industry in the next few years—is often referred to as "the fourth industrial revolution," and it was the focus of the "Additive Manufacturing the Future" Research and Development Workshop on Nov. 1-2, 2018 in Tallahassee. The event, hosted by FAMU-FSU Engineering and the National Science Foundation-funded CREST CoManD Center for Additive Processing, focused on new trends and developments in the industry, plus forecasts and real-world expertise from engineers in the sector. 
Attendees like Tyler Gregory enjoyed the multi-faceted experience. "I found it extremely helpful," he said. "The event allowed me to meet professors and students studying additive manufacturing and bioprinting. This event was a great way for me to network with other like-minded students who I may have never meet otherwise." 
The workshop garnered more than 50 participants from throughout the Southeast, including groups from Spellman College, Bethune-Cookman University, Fisk University, Clark Atlanta University, Howard University, Florida State University, Florida A&M University and more. Participants included both students and faculty members from the institutions. 
"This was a spectacular success in its first year," said Tarik Dickens, Ph.D., co-investigator at the center. "We are excited to grow it even more next year, and increase our collaborations with other universities in this research area."
Researchers presented new and evolving trends in additive manufacturing technology. The sector includes advances such as novel sensors for structural health to batteries and solar cells for energy applications. Key players in the field presented topics, including a keynote address by Dr. Jaret C. Riddick, Director, Vehicle Technology Directorate of the U.S. Army Research Laboratory.
Attendees participated in general sessions and breakouts presented by Greg Flickinger, Group Vice President of Manufacturing Operations for H-E-B Supermarkets; Madinah Allen; Andy Li, Ph.D., a senior chemist at Dow Industrial Solutions; Carmen Sidbury, Ph.D., of the Sidbury Group LLC; and Amanee Salaam, Ph.D., senior engineer and scientist for Procter and Gamble. 
"It was my pleasure and honor to support the event representing Dow," said Dow Chemical's Li. "I was impressed by the campus, facilities and students – I also learned a lot from the faculty members and industrial partners' presentations."
A session was also held to address the research concerns of faculty members from different HBCUs and what steps would increase collaborations and research productivity. Deborah Gautier presented information to attendees about graduate opportunities at FAMU-FSU Engineering.
In addition, members of the CREST center presented topics on emerging research including Clayton Clark, II, Ph.D., a civil and environmental engineering professor heavily involved in researching minority graduate education. 
The event aimed to showcase the technology and engineering developments to researchers from around the nation. Potential graduate students—who will certainly be on the forefront of the technology as researchers and industry engineers—also attended to learn more about the CREST CoManD Center and its unique opportunities for underrepresented minorities in engineering.
As the only joint college of engineering in the country and a synergistic partnership between a top HBCU and a Tier-1 research university, the FAMU-FSU College of Engineering is, according to its dean J. Murray Gibson, Ph.D,"uniquely positioned to impact the need for a more diverse population of engineers for the next decade and beyond." The college hosted this event as a step toward even more opportunities to attract minority graduate researchers in engineering. 
Based on participant feedback, organizers expect increased interest in graduate school at FAMU-FSU Engineering through the CREST Center. 
 
"I wanted to apply to the FAMU-FSU biomedical engineering program because after spending time at the event and talking to professors and faculty, I found a very welcoming environment in which I feel that I will succeed in," prospective graduate student Gregory explained. For him, it was all he needed to commit to the program immediately.