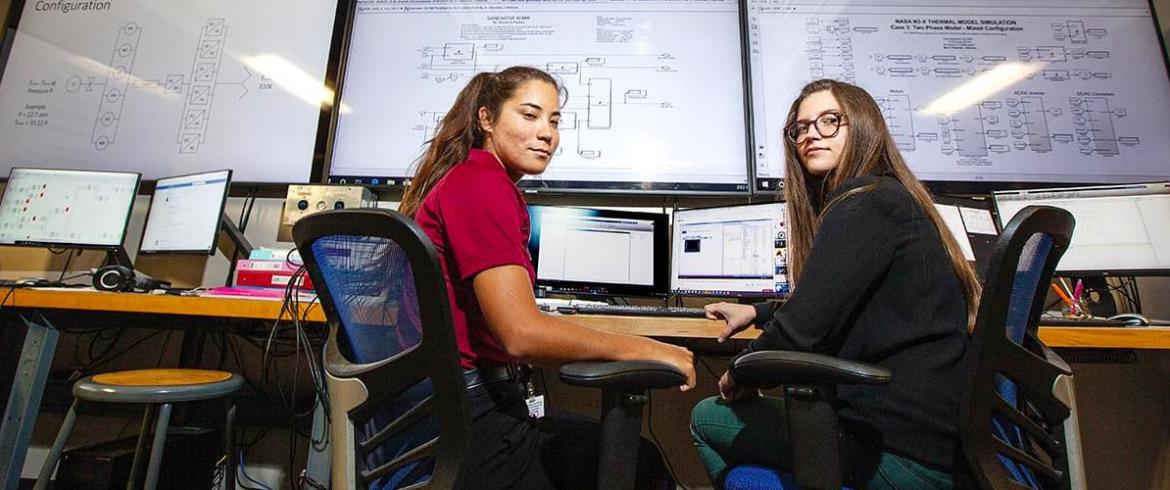 For some undergraduate students at the FAMU-FSU College of Engineering, learning isn't limited to the classroom and labs. Hands-on undergraduate research is encouraged, as well as supported.
Peter Cheetham, Ph.D., a research faculty member at the Center for Advanced Power Systems (CAPS), mentors three undergraduate engineering students who are now primary authors of research publications on projects they have been engaged with all year.
Being a primary author lets readers of a research article know which contributor(s) was most instrumental to a project. Engineering students Delaney Freeman, Isabel Barnola and Taylor Stamm are Florida State University undergraduates making advances in their careers that many others on their educational level will not receive. If the engineers choose to pursue advanced degrees, they will be above the learning curve from the hands-on experience they have gained, including conducting research, operating high-powered equipment and writing research papers from the information they have compiled. 
"It teaches how to take responsibility of a project, doing research, and working as part of a large team," said Cheetham. "When it is their own project, they are in the driving seat deciding the course of action and asking for support when they need to. They meet with fellow researchers on a weekly basis and present progress updates and answer questions. We give them some guidance and answer if they have questions, but they own the research project." 
Freeman, a chemical engineering senior, is researching High Temperature Superconducting technology and how the operating parameters – including the temperature, current, voltage and pressure – affects many aspects of large, electric vehicles such as aircrafts and ships. She is evaluating efficient superconducting power devices as alternatives to traditional power systems and how the cryogenic system efficiency figures into the capital and operating costs of such systems. 
"We are trying to see how connecting several superconducting power devices into a single cryogenic loop affects the performance and efficiency," said Freeman. "And how you optimize such a system given each device operates at a different temperature." 
Freeman began her research by joining FSU's Undergraduate Research Opportunities Program.
 
Stamm, a spring 2019 electrical engineering graduate, is working on a project involving HTS power cables to comprehend the multiple kinds of various electrical faults in shipboard medium voltage DC power systems and various conditions the cables will encounter during an electrical fault. He is testing the cables' durability by designing them to be suitable for harsh environmental conditions. Next fall, Stamm will be seeking his master's degree and continue the research on his project.
 
Stamm and Freeman will present their findings July 22 and 23, respectively at the 2019 Cryogenic Engineering Conference in Hartford, Connecticut. 
Barnola, a senior computer engineering student from Venezuela, is studying the cryogenic system requirements for electric aircraft power with superconducting technology using advanced computer simulation tools. Freeman is assisting Barnola with her project as a collaborator and co-author. With Freeman's background in chemical engineering, she will work with Barnola to look at cryogenic thermal models of superconducting electrical airplanes.
"I didn't know I was so interested in research!" said Barnola. "It's amazing but at the same time it is very thought-provoking and full of learning opportunities. In the future I would like to pursue my Ph.D. What I like is computer programming and simulations, so that is probably what I will pursue." 
At CAPS, researchers like Cheetham are providing undergraduate students quality research and other experimental learning opportunities with hands-on activities that complement what is taught in the classroom. These opportunities turn students into professional engineers with enhanced skills in problem-solving, communication, networking and being part of a team. 
CAPS is a multidisciplinary research center organized to perform basic and applied research to advance the field of power systems technology with emphasis on application to electric utility, defense, and transportation.