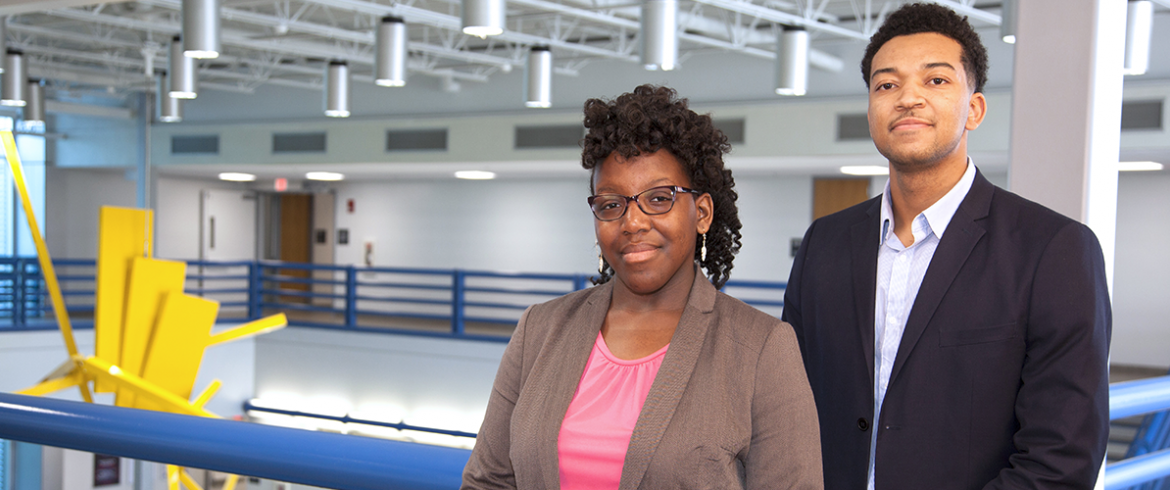 Engineering students Latarence Butts and Daziyah Sullivan were honored at BEYA, the Black Engineers of the Year Awards STEM Conference this year. The scholars won academic leadership awards at the event February 2018 event held in Washington D.C. 
"To achieve this kind of award student leaders have to be outstanding contributors to their schools and communities, explained Lango Deen of CCG Magazine, a spokesperson for the event. "They are dedicated scholars who shine in the classroom."    
Sullivan is a promising second-year mechanical engineering student and became interested making renewable energy more affordable after her first introduction to the subject during a green-energy summer camp. There she became inspired and made the connection to real-life situations. 
"There are so many ways to incorporate renewable energy resources into people lives-- it needs to be cheaper so people can afford it and implement it," the young researcher said. 
Sullivan's academic excellence has been consistent, from earning all A's in elementary school to the honor of a Gamma Beta Boule designation. This designation comes from being one of the two highest academic performing African-American students in Duval County public schools in 2016.
Butts is a third-year senior majoring in electrical and computer engineering. His research interest involves high-frequency devices and circuits and he plans to pursue a master's degree after graduating. He became interested in electrical engineering after attending a robust STEM program at his high school. There he discovered a love of math. 
"To me, electrical engineering was the right fit for me because there is a lot of math used in this area of engineering," he said. "My love of math drew me to the field." 
In his spare time, he enjoys reading historical scientific novels. 
"Reading books like that get me excited again and inspire me to remember why I love science and math," he explained.
Butts was a National Merit Scholar in and is vice president of Tau Beta Pi Honor Society in college. After graduating, he will be returning to San Diego to work as an intern for Northrup Grumman Corporation in the summer of 2018. He has recently been awarded a Tau Beta Pi Fellowship in the amount of $10,000 to persue a graduate education.
The criteria for the BEYA student leadership award is very competitive and students from around the country have an opportunity to compete with the best of the best. The students who earn the academic leadership award have to have a very high GPA and be outstanding contributors to their schools and their communities.