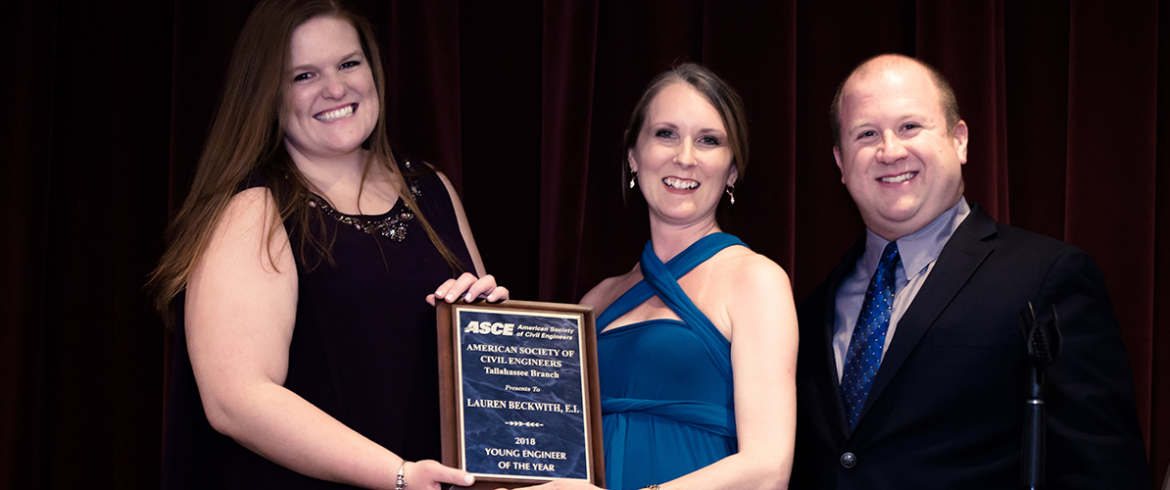 On Friday, February 23 at the Los Robles Women's Club in Tallahassee, local professional members of the American Society of Civil Engineers (ASCE) Tallahassee branch celebrated engineers new and seasoned. 
The 2018 Engineer's Week Banquet included celebrations of all kinds, but the some awards were particularly proud moments for the FAMU-FSU College of Engineering participants.
During the banquet, three ASCE Tallahassee members with ties to the college were recognized for their outstanding achievements at this year's awards banquet.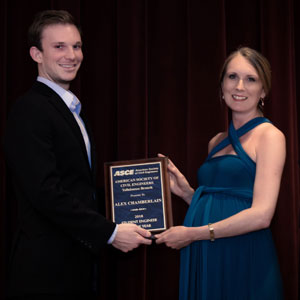 The 2018 ASCE Tallahassee Branch Student Engineer of the Year award went to FAMU-FSU Engineering senior Alex Chamberlain. According to his peers at ASCE, Chamberlain has a passion for the field of civil engineering and for serving others. His infectious enthusiasm, work ethic, and positive attitude have attracted multiple students to join the FAMU-FSU ASCE student chapter. He has been a role model to many and has inspired those around him to volunteer at events in the local community. 
Chamberlain is a senior majoring in civil engineering at the engineering school. While carrying a full course load in school, he worked for the past two years as an intern at EGS. He was the 2018 conference chair for the ASCE student chapter, overseeing all of the FAMU-FSU competition teams and handling all logistics for the FAMU-FSU team travelling to the ASCE Southeastern student conference in Gainesville. He is also the president of the Civil Engineering Honor Society and the secretary of Engineers Without Borders. After graduation he will be working for Turner Construction in Orlando.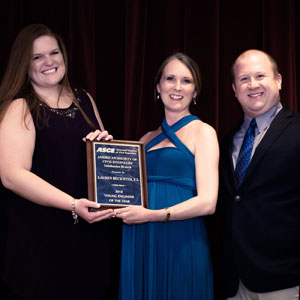 Lauren Beckwith, EI, was awarded 2018 Young Engineer of the Year. She is employed with HW Lochner where she works in FDOT roadway design and stormwater management design. She is an alumna of the college, having graduated with her M.S. in civil engineering from Florida State University in December 2016, after completing a bachelor of science in 2013.
While attending FSU, Bechwith was active with the ASCE student chapter, and she is currently serving as Younger Member's Chair for the Tallahassee Branch, where she has done a tremendous job with planning socials and volunteer events. She has displayed her passion for motivating students to pursue careers in the STEM field by volunteering at FES and ASCE events, including the Engineering Encounters Bridge Design Competition, MathCounts, and most recently, local Dream Big events through the INSPIRE program.
Another standout alumni was David Crombie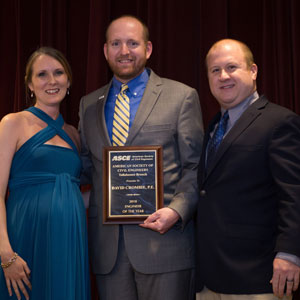 P.E., who earned the 2018 ASCE Tallahassee Branch Engineer of the Year award. Crombie, has devoted much of his time over the past several years to volunteering at student chapter events. He has spent the past year helping student chapters across the state perform well in various activities such as Southeastern Student Conference. He is described by students and others as, "always approachable and helpful, and never hesitates to share his educational and professional expertise with those around him."
Crombie is a 2011 civil engineering graduate of the FAMU-FSU College of Engineering. He works for HNTB in Tallahassee on a wide range of transportation design and planning projects, primarily focusing on project development and environment studies, environmental resource permitting, and National Environmental Policy Act (NEPA) task assignments. He is a past president of the ASCE Tallahassee Branch and a graduate of the Florida Engineering Leadership Institute (FELI). His current civic service roles include the ASCE Florida Section Board of Directors, the FELI leadership institute steering committee, and the Florida Engineering Foundation (FEF) Board of Trustees.
Photos by Mary Curran Photography