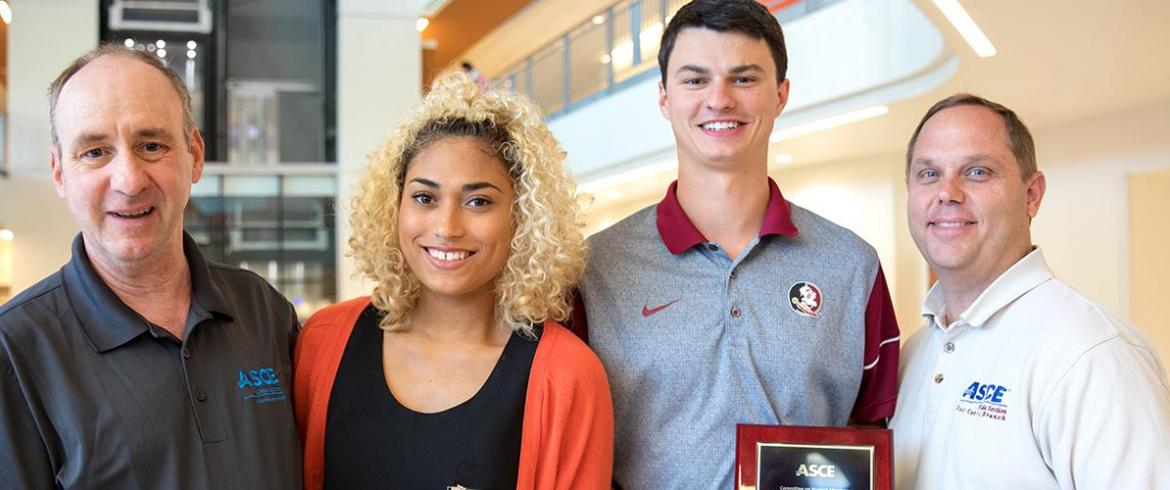 In mid-March 2018, Dr. Raphael Kampmann, faculty adviser for the FAMU-FSU College of Engineering's American Society for Civil Engineers (ASCE) Student Chapter, received a handful of very exciting letters from the professional society.
The communiques announced that the student chapter had earned not only one, but four national awards for ASCE student chapters. In addition, the chapter was nominated for the prestigious Ridgway Award, which is awarded to the single most outstanding Student Chapter of the American Society of Civil Engineers.
These awards, among other faculty and student recognitions, were part of the civil engineering department's Student and Faculty Awards Banquet held April 17, 2018, in downtown Tallahassee. Jeff Earhart, P.E., F.ASCE (ASCE Fellow) is Region 5 Governor and was on hand to present the chapter awards.
Kampmann oversees a student chapter that has demonstrated its excellence among peers, winning the 2018 Distinguished Chapter Award for Region 5 awarded by the ASCE Committee on Student Members. This year he was also awarded the 2018 National ASCE Outstanding Faculty Advisor Award. Kampmann was one of the two final recipients for this National ASCE award. 
This marks the first time the FAMU-FSU ASCE Student Chapter has won the award, which annually recognizes the most outstanding student chapters within each region in the United States. The FAMU-FSU ASCE Student Chapter was selected out of 32 total chapters within Region 5, which represents ASCE members from Alabama, Florida, Georgia, Louisiana, Mississippi, and Puerto Rico.
"We want to congratulate our ASCE Student Chapter for being selected as the recipient for the 2018 ASCE Distinguished Chapter in our region--they are great ambassadors for our college," FAMU-FSU College of Engineering Dean J. Murray Gibson said. 
In addition, FAMU-FSU ASCE's Student Chapter received the 2018 Letter of Significant Improvement and 2018 Letter of Recognition for Community Service. The chapter has been instrumental in establishing a new outreach program known as INSPIRE, which in its first year has reached nearly 800 underserved youth through hands-on engineering activities including building Leonardo bridges and soil towers reinforced with geotextiles. Other community service and outreach activities supported by chapter members include Habitat for Humanity and Science Saturdays at Kleman Plaza.
Chapters are selected for these awards based on their previous year's annual report, which highlights their activities in the engineering field and local community. Each year, the chapter participates in the ASCE Southeast Regional Conference and an annual clay shoot fundraiser and networking event. In October, they hosted the National Association of Engineering Student Councils Southeast Conference, an event attended by student leaders from nine engineering schools in the region. 
ASCE graduate adviser Garit Poire reflects on the accomplishments of the student chapter by saying, "Our student chapter has worked hard to develop meaningful partnerships with local businesses, creating a positive impact within the engineering field and our community."
"The growth of our student chapter is best exemplified through our nominations for these respected awards," Poire said.
The FAMU-FSU ASCE Student Chapter was also nominated for what is regarded as the most prestigious award offered by the national organization: the Ridgway Award, which was developed in 1965 "to promote excellence among the student chapters of the ASCE." Isabel L. Ridgway endowed this award in honor of her husband, Robert Ridgway, a past president of the ASCE. 
Out of 326 Student Chapters nationwide and abroad, the FAMU-FSU ASCE Student Chapter made the cut as one of the five finalists chosen for the first time in the chapter's history. 
"This chapter's accomplishments reflect the enthusiasm and hard work of your student officers and members," Leslie Payne, Director of Student and Younger Member Programs for ASCE, said.
Payne adds, "The Society recognizes and sincerely appreciates your personal contribution, enthusiasm and hard work, which result in outstanding student chapter programs such as yours."
The 2018 Ridgway Award winner will be selected in April. 
Civil and Environmental Engineering Student-Faculty Awards Banquet
Before an audience of approximately 100 attendees, the April 17 civil and environmental engineering department banquet recognized student leaders at the graduate and undergraduate levels and celebrated faculty contributions to the department and the field at large.
Dr. Larry Robinson, president of Florida A&M University, attended the banquet to not only congratulate students from the joint college, but also to welcome the incoming ACI-ASCE-FES chapter president Elon Yates. Yates is the first FAMU student to head the student organization.
Among those faculty recognized were Kamal Tawfiq, Ph.D., PE, who joined the department in 1988 and was selected as chair in 2004. In the role, he led the department successfully through three ABET accreditation visits, two Quality Enhancement Reviews and two SACS accreditation cycles. He was the first chair to initiate and implement online distance learning courses in the college and to establish the first MEng at the MS level. 
Tawfiq was instrumental in developing exchange programs for students from China, Germany and Africa. In 2007, Tawfiq was elected to the grade of Fellow by the American Society of Civil Engineers in, and he received the Dean's Engineering Invention Award the same year. In 2014, he received the FSU Distance Learning Award for Excellence in Online Course Design. 
Tawfiq was recognized twice as the Engineering Faculty of the Year by the Florida Engineering Society, in 2007 and again in 2013. 
Jerry Wekezer, Ph.D., PE was also recognized as faculty. Wekezer joined the FAMU-FSU College of Engineering in 1994 as department chair, after serving as head of the department of civil engineering at the University of Alaska Anchorage for four years. 
During his 10-year tenure as chair, the department launched the highly successfully B.S. program at FSU's Panama City campus and began the Ph.D. program at the FAMU-FSU campus in Tallahassee. 
Wekezer's research interests include simulation-based engineering science and applied computational mechanics.  His work was sponsored by NSF, FHWA, FDOT and ARL, among other federal and state agencies and organizations. In 1999, he began a longstanding research program examining the crashworthiness of paratransit buses. Using computational techniques based on dynamic finite element analysis, along with laboratory tests of individual components and full-scale crash tests, his team worked with the Florida Department of Transportation to test various types of paratransit buses for their ability to survive a side impact and rollover accidents with minimal harm to occupants. Wekezer's work has been instrumental in developing and validating national and international standards for crash safety assessment of small buses. As Professor Emeritus, Wekezer continues to work in this important field in concert with Dr. Sungmoon Jung and research operations manager Jeffrey Siervogel. 
Wekezer is a Fellow of the American Society of Civil Engineers, and in 2007, he was recognized for his achievements as a Distinguished University Professor. An ASCE Fellow and a Fulbright Senior Research Fellow, Dr. Wekezer received the Engineering Service Award in 2004 and the Engineering Teaching Award from FAMU-FSU in 2008. He was awarded the title of University Distinguished Professor at FAMU in 2002. 
Graduate student Garit Poire was given special recognition for his contributions to the College of Engineering and the civil engineering department. Poire served as graduate adviser to the FAMU-FSU joint chapter of ACI-ASCE-FES. As an undergraduate, he held multiple leadership roles in the joint chapter, including treasurer and president. In his role as graduate adviser, Poire worked to motivate and assist chapter members, getting students involved in outreach and networking activities, such as Legislative Days and the Clay Shoot Fundraiser/Networking Event. 
Along with Christin Gorman of the local ASCE branch, he developed and helped implement the INSPIRE program and also secured funding to distribute it widely across the local impact area. 
As teaching assistant for Engineering Mechanics and Senior Design, Poire impacted numerous undergraduates at the college. He sat on the Engineering Design Day coordinating committee for the past two years and served as the FSU student representative on the Dean Search Committee in 2016. In recognition of his many contributions, Poire was one of only four students at FSU awarded the Graduate Student Leadership Award in 2018. 
Poire recently completed his Master of Science thesis degree under the direction of Yassir AdbelRazig.
Kristine Obenour was also recognized for her alumni contributions to the department and as an outstanding graduate student. Obenour serves as graduate adviser to the FAMU-FSU joint chapter of ACI-ASCE-FES. As an undergraduate, she was president of the joint chapter. Upon graduation, she joined the Master of Engineering program at the FAMU-FSU College of Engineering, taking a full course load while working fulltime at Barkley Consulting Engineers, Inc. 
Locally, Obenour serves as secretary of the Florida Structural Engineering Association, and membership chair of the Big Bend chapter of the Florida Engineering Society. As ACI-ASCE-FES graduate adviser, she serves in myriad capacities, from assisting with INSPIRE outreach days, to organizing student activities, to coordinating the annual awards banquet. Obenour was named as the statewide student of the year in 2017 by both FES and ASCE.
Undergraduate awards were given to Alex Chamberlain and Steven Miller, both leaders in the student chapter. Chamberlain is vice president of the ACI-ASCE-FES student chapter and also serves as president of the Civil Engineering Honor Society and the secretary of Engineers Without Borders. Miller is student chapter president and also an engineering senior. He will continue his studies in an MBA program.
For more information, please visit: www.ascetally.com 
FAMU-FSU ASCE Student Chapter Awards:
2018 ASCE Distinguished Chapter Award for Region 5
2018 Ridgway Finalist
2018 Letter of Significant Improvement
2018 Letter of Recognition for Community Service
In related news, read about the 2018 ASCE Tallahassee Branch awards which included several FAMU-FSU Engineering students and alumni.