More than 60 students from the FAMU-FSU College of Engineering participated in the 2019 American Society of Civil Engineers (ASCE) Southeast student conference. The event was hosted by the University of Tennessee in Knoxville. During the conference, engineering students from 29 schools had the opportunity to network and compete in numerous engineering challenges. 
FAMU-FSU Engineering students Daniel Diaz, Jamie Green and Parker Austin were awarded first place for their design of a sustainable dog house.
"The idea behind the Dog House competition is to help an animal rescue group provide temporary housing for an animal in need after a disaster," Diaz said. "Rescue organizations need to be able to set up a mobile area to house dogs in an emergency. The guidelines stipulated that the structure had to be sturdy, light, easy to assemble, weather resistant and made from sustainable materials." 
The students submitted a technical paper, presented their work to judges and constructed a full-size version of the proposed doghouse. After months of preparation the students built a lightweight hemp composite doghouse that could be assembled in a few seconds. 
Ryan Loving and Freeman Sanders represented the college in the Enter Sandman competition. Their entry involved using geotechnical skills to devise non-destructive technique for detecting subsurface voids. Both students are juniors and described their experience at the event. Loving is a former Marine and this was his first semester in engineering.
"ASCE is like family," Loving said. "It reminded me of my military family. The brotherhood, the sisterhood, the comradery at the conference was amazing. We had a chance to interact with people from different backgrounds and see different ways people would approach problems. It was remarkable and we had fun."
Sanders talked about the bonds that were created between his team and the other college students who participated. 
"You have all these competitions and of course you want to win but that wasn't the most important thing," Sanders said. "Everyone wanted to help each other out. In fact, they looked for ways to help out." 
Participants primarily came from the Southeast. However, some international schools such as the Southeast University from Nanjing, China also participated. 
Elon Yates is a senior and president of the college chapter of ASCE. She will graduate this spring and will start a new job in the construction industry soon.
"I always love the conference," Yates said. "We had lots of younger members this year and it was great to see the looks on their faces when they got to experience this event for the first time. I am going to miss this but I know our sophomores and juniors are going to continue the tradition."
More than 1,000 students attended the event. The college scored seventh place this year overall. The University of Puerto Rico, Mayaguez took first place, the University of Florida, second place and Kennesaw State University was third.
Here are some of the photo highlights from the FAMU-FSU Engineering Teams.
1st Place - Sustainable Solutions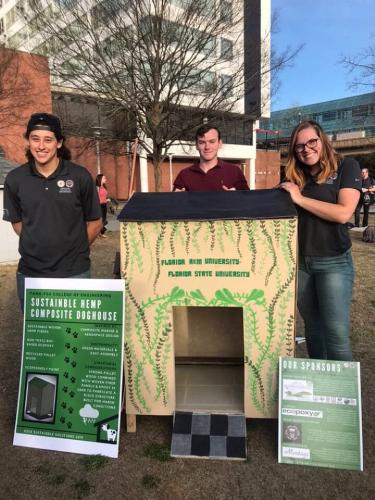 Daniel Diaz, Parker Austin, and Jamie Green in the sustainable construction competition "Sustainable Solutions".
This competition allowed students to apply the principles of sustainable development during the design-build process. The team submitted a technical paper, presented their work to judges and constructed a full-size version of the proposed doghouse. After months of preparation, students Daniel Diaz, Jamie Green, and Parker Austin built a lightweight hemp composite doghouse that could be assembled in a few seconds. The team was awarded first place for their design and have been invited to compete in the National Competition.
1st Place - Sight Reading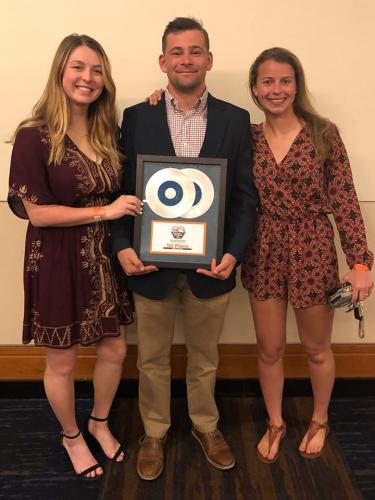 Danielle Prescott, Garrett Mitchell and Taylor Garrick first place in construction documents competition "Sight Reading"
Students Danielle Prescott, Garrett Mitchell and Taylor Garrick participated in the sight-reading competition. The event involved project organization and the ability to draw sets, scales, standard symbols and abbreviations. The contestants sight-read a series of construction documents and answered technical questions. The students placed first overall in the competition.
3rd Place - Pothole Pitch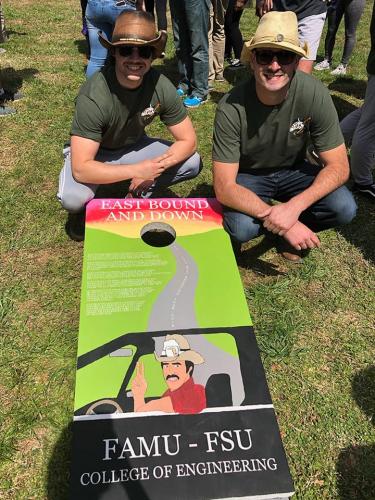 Dylan Nelson & David Rodriguez in the pavement design competition "Pothole Pitch"
Students Dylan Nelson and David Rodriguez created a concrete corn hole board in honor of Burt Reynolds, featuring the lyrics of Jerry Reed's song East Bound and Down. They survived multiple rounds of the corn hole bracket and placed third overall in the competition
5th Place - Innovation Contest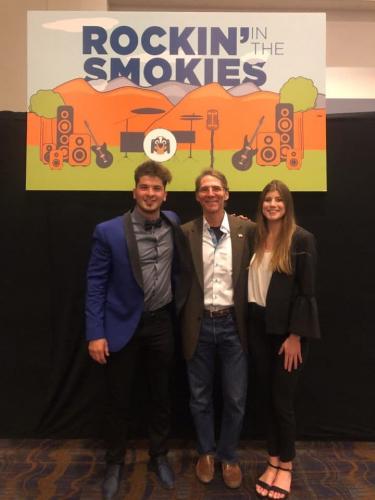 Badar Belhaj, head judge of innovation contest, and Morgan Downie in the "Innovation Contest"
This contest required students to submit a poster and give a presentation on innovative ideas in engineering. Students from all disciplines presented in multiple rounds before a panel of engineers. Finalists pitched their solution to the "sharks." The director of the innovation contest encouraged the team to include FAMU-FSU Engineering shark tank students from all disciplines to submit as many ideas as they wanted. Students Badar Anwer Belhaj and Morgan Downie pitched their idea to improve traffic backups and made it through all rounds of the competition, and have been asked to improve their ideas and come back to compete next year.
8th Place - Enter Sandman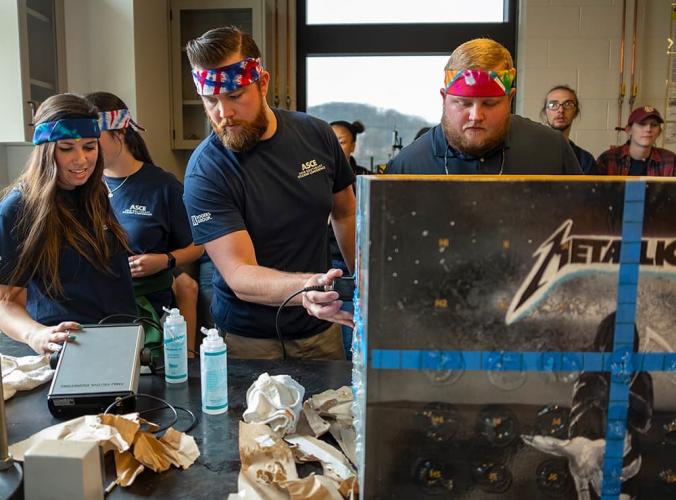 Nicole Arrigo, Maggie Martins, Ryan Loving andFreeman Sanders in the geotechnical engineering competition "Enter Sandman"
10th Place Overall - Concrete Canoe