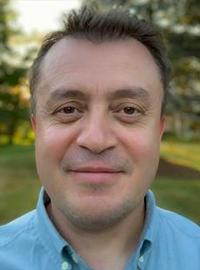 Office
PC Campus, Holley A-211-X
Educational History
Ph.D., Electrical Engineering, Arizona State University, 2001
M.Sc., Electrical Engineering, University of Colorado, Boulder, 1996
B.Sc., Electronics and Communication Engineering, Istanbul Technical University, 1991
Research Interests
Low power hardware and software design
Battery-aware
Thermal-aware design
Hardware implementation of machine learning algorithms
Publications
Selected Publications
D. Manzak and A. Manzak, "Analysis of Environmental, Economic, and Demographic Factors Affecting COVID-19 Transmission and Associated Deaths in the U.S.A." (July 6, 2020). Available at SSRN: https://ssrn.com/abstract=3644677.
A. Manzak and S. E. Seker, "Low Power Design for DVFS Capable Software", The 10th IEEE Annual Ubiquitous Computing, Electronics & Mobile Communication Conference (IEEE UEMCON 2019), Columbia University, New York, USA, 10-12 November 2019.
D. Manzak, G. Cetinel and A. Manzak, "Automated Classification of Alzheimer's Disease using Deep Neural Network (DNN) by Random Forest Feature Elimination", The 14th International Conference on Computer Science and Education (ICCSE 2019), Aug 2019, Toronto, Canada, pp. 1050-53.
A. Saghir, E. Atoofian, and A. Manzak, "Reducing Power of Memory Hierarchy in General Purpose Graphics Processing Units", Journal of Low Power Electronics, Vol. 13, 1–17, 2017.
K. Chen, E. Atoofian, and A. Manzak, "Improving Power of Cache and Register File through Critical Path Instructions", IEEE 17th Euromicro Conf. on Digital System Design (DSD 2014), pp. 349-55.
E. Atoofian, and A. Manzak, "Power-Aware L1 and L2 Caches for GPGPUs" Euro-Par 2014 Parallel Processing. Lecture Notes in Computer Science, vol. 8632, pp. 354-36, 2014.
O. Polat and A. Manzak, "Evaluation of Low Power Carbon Nanotube Field Effect Transistor (CNFET) Master-Slave Latches", Int. Conference on Solid-State and Integrated Circuit (ICSIC 2012), pp 142-46.
C. Christoffersen, G. Toombs and A. Manzak, "An Ultra-Low Power CMOS PTAT Current Source", The Argentine School of Micro-Nanoelectronics, Technology and Applications Conf. (CAMTA), 2010.