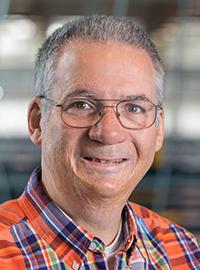 Office
Building A, Room A344
Educational History
Ph.D., Electrical Engineering, Georgia Institute of Technology, 1991
M.S., Electrical Engineering, University of Alabama in Huntsville, 1987
B.E.E., Auburn University, 1984
Research Interests
Wireless Communication and Networks
Spread-spectrum communications
Real-time DSP in communication systems
Remote data collection and lightning surge suppression/protection
Current Research Projects
Damage to ITS, Traffic Control, and Roadway Lighting Equipment from Transient Surge and Lightning Strikes
Improvement in the accuracy and reliability of Telemetered Traffic Monitoring Systems
Dr. Bruce Harvey (S'81–M'84–S'88–M'91–SM'98) was born in Stoughton, Massachusetts, USA on December 20, 1961. He received the B.E.E. (Co-op, Highest Honor) from Auburn University in 1984. He received the M.S.E.E. from the University of Alabama in Huntsville in 1987 and the Ph.D. in Electrical Engineering from Georgia Institute of Technology in 1991 specializing in communications theory and error control coding.
In September 1997 he joined the Department of Electrical and Computer Engineering at the Florida A&M University – Florida State University Joint College of Engineering in Tallahassee, Florida, and currently holds the rank of Associate Professor. Dr. Harvey was the Associate Chair of the Department of Electrical and Computer Engineering from 2004-2010 and is once again serving in this capacity (since 2013). He was a Research Engineer I at the Georgia Tech Research Institute (GTRI) from 1984-1986 and a Lead Engineer at Phase IV Systems, Inc. from 1986-1988. From 1991-1997 he was a Research Engineer II and then Senior Research Engineer in the Communications Division of GTRI.
His current fields of interest include wireless communication, error control coding; telecommunication systems, spread-spectrum communications, wireless networks, modulation techniques, and modeling and analysis. Dr. Harvey's current research includes reliable spread-spectrum communication, real-time DSP in communication systems, rapid spread-spectrum synchronization using FPLD's, remote data collection, and lightning surge suppression/protection.
Dr. Harvey is a member of the IEEE Communications and Education Societies. He is also a member of the American Society of Engineering Educators, Tau Beta Pi, and Eta Kappa Nu. He served as the Registration Chair for the 1996 IEEE Vehicular Technology Conference, the Registration Chairman and Treasurer for the 32nd Southeastern Symposium on System Theory in 2000, and the Treasurer for the 2010 IEEE Industrial & Commercial Power System Technical Conference. From 2003 – 2004 he was the Chair of the IEEE Tallahassee Area Section, and has been the Advisor for the IEEE Student Branch at the FAMU-FSU College of Engineering since 1998.
He is currently working on 2 projects for the Florida Department of Transportation (FDOT). For the Transportation Statistics Office, he has been working on a series of projects to improve the accuracy and reliability of the over 300 Telemetered Traffic Monitoring Systems. Under these projects, he has researched communication systems, new types of vehicle sensors, weather effects on sensor degradation, and lightning surge protection. For the Traffic Operations Office, he has recently begun a project to evaluate damage to Intelligent Transportation Systems (ITS) due to lightning. He is currently quantifying the amount of damage to ITS systems in the various regions of Florida, and determining the current state of practice for lighting protection in place in Florida and elsewhere.
Publications
Imran, M., B. Harvey and A. Gahfoor, "Hybrid Watermarking Scheme based on DWT,SVD, HVS and FIS," submitted to the IEEE Workshop on Information Forensics and Security (WIFS'14), Atlanta, GA, December 3-5, 2014.
Harvey, B., "Long Term Field Study of Lightning Surges Through Traffic Monitoring In-Pavement Sensors," Accepted for presentation and publication at the IEEE Industrial Application Society Annual Meeting and Conference, Vancouver, B.C., October 5-9, 2014.
Golla, P. R., A. Mukherjee, B. Harvey, "Extruded Segmented Sensor for Road Traffic Classification," Proceedings of the 2013 IEEE SoutheastCon, Jacksonville, FL, April 5-7, 2013.
Hovsapian, H., C. Shih, B. Harvey, O. Okoli, "An Overview of our Experience Integrating Multidisciplinary and International Design Projects within the Senior Capstone Design Course," ASEE 2011 Annual Conference, Vancouver, BC, Canada, June 26 - 29, 2011.