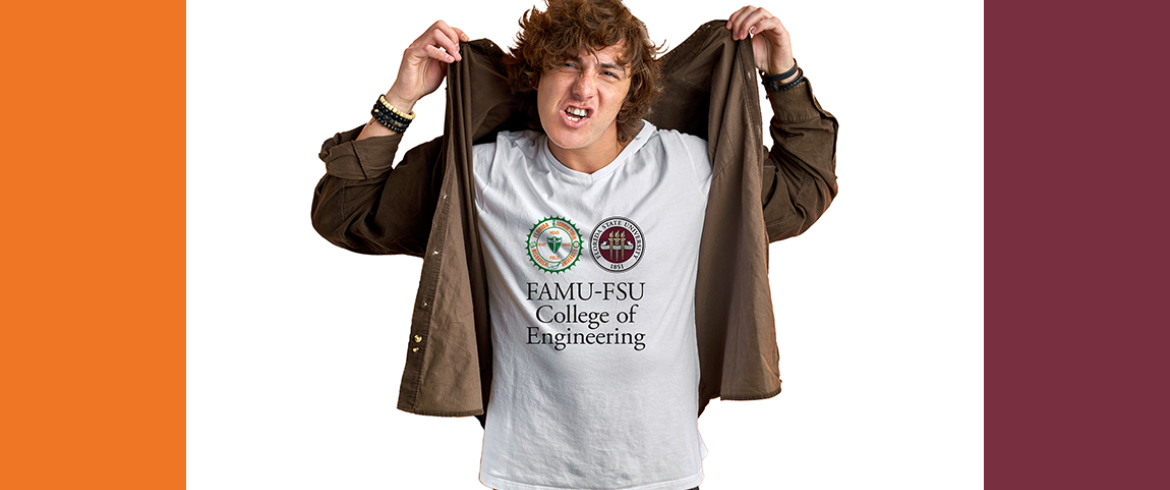 ---
Collegiate licensing and brand review helps protect the universities' and college brand/trademark, helps promote them and helps generate funds for the athletic departments of both FAMU and FSU.
Recently we earned the right to use the FAMU-FSU College of Engineering logo on items for student groups and fundraising. Because the official logo utilizes university seals from both FAMU and FSU, we must adhere to strict guidelines when preparing materials bearing the mark, and in obtaining proper approvals to produce these items. As a Registered Student Organization or college unit, you do have permission to produce items for internal resale and distribution if these guidelines are followed. Questions? Contact Engineering Marketing in B-226 or (850) 410-6495.
This entire policy covers:
Official logo
FAMU-FSU College of Engineering FAMU-FSU Engineering (words alone)
Goostavo logo
Policy effective July 2023
Licensing is a written agreement between FAMU and the Collegiate Licensing Company (CLC), and FSU and CLC and the licensee, whereby the licensee is granted permission to produce products bearing the marks of the universities. Licensees are the vendors producing products that you order for distribution or internal resale.
---
Official Logos/Marks
This policy covers all of the college's brand logo assets, including the words "FAMU-FSU College of Engineering." Please use only these official logo/wordmark options in your design. You may obtain these files from the Office of Marketing & Communications in B-226.
Artwork Guidelines
Use a vendor from the internal licensed vendor list provided by the college. These vendors are licensed to produce internal goods for both FAMU and FSU. Do NOT use a vendor outside of this list.
Include the college name, RSO name or event name (if applicable) on all items. See Student Organization Names section below.
Don't alter any of the trademarked items (logos and words).
Don't create a caricature of any university trademarks.
Don't overprint the logos with other words or design elements.
Don't put the brand on any products that may be harmful to the image or mission of the college or universities.
Don't use designs that are confusingly similar to the registered trademarks, logos or copyrights of other brands.
Student Organization Names
RSOs should include the word "club" or similar identifier name of the organization. These include but are not limited to: Club, Society, Association, Fraternity, Council, Institute, Group, Committee, Students, Students For, Ambassadors, Chapter and Community. • RSOs may include the words "at FAMU-FSU College of Engineering," "at Florida A&M University and Florida State University," "at FSU and FAMU," or "at Florida A&M and Florida State," but should not indicate just one university affiliation.
Recognized Student Organization Logo
RSOs may create their own graphic logo but may not incorporate any additional FSU or FAMU trademarks or references to the logo (including the athletic fonts).
The organization name must be included with this graphic.
RSO Product/Merchandise Designs
Designs should center around the RSO and/or the event that is being promoted.
Designs should not include university trademarks outside of the FAMU-FSU College of Engineering logo. This is because FAMU specifically does not allow use of their trademarks except on official university merchandise (we have a special allowance for RSO items bearing the college logo). RSOs must indicate dual university affiliation on items and there are no options for representing FAMU adequately alongside allowable FSU trademarks.
No name mashups are permitted.
No representation of any Native American or snake image or identity should be used as part of an RSO mark or design. This imagery includes, but is not limited to, headdresses, tomahawks, caricatures and objects impaled on or wrapped around spears.
Do not use garnet/gold, orange/green or a combination of all four colors in your merchandise. The college colors are orange and garnet (see college style guide).
Unauthorized Use
Please note that use of any university marks that does not comply with the universities' licensing and approval requirements is unauthorized and may violate federal and/or state laws. The universities reserve the right to take appropriate action when confronted with unauthorized use of their marks.
NOTE: On-demand or DIY merchandise production is prohibited by university policy. This means organizations may NOT self-produce or DIY produce merchandise for any reason, regardless of intent to sell.  
Approved Vendors & Style Guidance (As of Aug 2023)
The following vendors are "Internal Licensees" for both Florida A&M and Florida State universities. Because the college logo incorporates trademarked seals from both institutions, you MUST use a vendor licensed dually. "Internal Licensee" pertains to the distribution of produced merchandise—since student organizations/college-affiliated groups are not official retailers/distributors, you are referred to as "internal."
Dual License Vendors (FAMU and FSU)
List is subject to change; please check license status with vendor prior to order placement
---
What is the process for making merchandise?
Create your design using these guidelines.
Obtain approval from your faculty advisor.
Select a vendor from the FAMU-FSU Internal Licensee List and get a quote.
Obtain Engineering approval for your design by using this form or emailing a full design comp and vendor quote to Tisha Keller, Director of Marketing & Communications. Pro Tip: send an image with your design on a photo of the product you're ordering.
The Marketing office will assist in getting you approvals from FAMU and FSU licensing managers. Once this is received, you can place your order!
Plan Ahead! This process generally takes about a week. Even with the "pre-approval" that the Marketing office streamlines, in some cases, your licensed vendor may need additional approvals from the universities. Include up to 2 weeks for that review and approval.