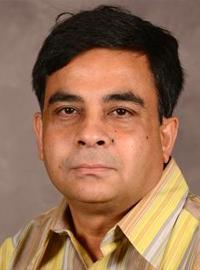 Office
PC Campus, Holley A211-CC
Educational History
Ph.D., Civil Engineering, Florida State University, 2004
M.S., Civil Engineering, State University of New York at Buffalo, 2001
M.S., Civil Engineering, Bangladesh University of Engineering & Technology (BUET), 1998
B.S., Civil Engineering, Bangladesh University of Engineering & Technology (BUET), 1993
Research Interests
Pyrolysis process, production of bio-char, bio-oil, bio-energy
Water and wastewater treatment, wastewater reuse and sludge management
Remediation of soil and groundwater
Water and wastewater conveyance analysis
Hydraulic and hydrologic modeling
Stormwater management
Publications
Papers in Refereed Journals
Wang, B., Grasel, P., Owete, O., Hallas, J., Ahmad, H., Chen, G. (2016) Advanced Oxidation and Suspended Fiber Biofiltration for the Treatment of Landfill Leachate. International Journal of Water Wastewater Treatment, 2(5), doi: http://dx.doi.org/10.16966/2381-5299.132 (Open Access)
Xue, H., Xie, W., Ahmad, H., Tawfiq, K., Chen, G. (2016) Arsenic Adsorption and Reduction in IronRich Soils Nearby Landfills in Northwest Florida. Journal of Urban and Environmental Engineering, 10(1), 98-105. doi: 10.4090/juee.2016.v10n2.098105
Wang, B., Grasel, P., Millington, G., Hallas, J., Ahmad, H., Chen, G. (2015) Landfill Leachate Treatment by Aerated Recirculation and Pressurized Suspended Fiber Biofiltration. Frontiers in Environmental Engineering, 4(1), 7-18. doi: 10.12783/fiee.2015.0401.02.
Ahmad, H., Miller, J.W., George, R.D. (2014) Minimizing Pond Size Using an Offsite Pond in a Closed Basin: A Storm Flow Mitigation Design and Evaluation, International Journal of Sustainable Development and Planning, 9(2), 211-224.
Leszczynska, D., Ahmad, H. (2006) Toxic Elements in Soil and Groundwater: Short-Time Study on Electrokinetic Removal of Arsenic in the Presence of other Ions, International Journal of Environmental Research and Public Health, 3 (2), 67-73.
Leszczynska, D., Dzurik, A, Ahmad, H. (2006) Policy, Management and in situ Treatment of Stormwater Runoff, Environmental Management, 137-143.
Ahmad, H., and Badruzzaman, A. B. M. (2000) Copper Speciation in the Ramna Lake of Dhaka City, Pollution Research, ISSN 0257-8050, 19 (1).
Badruzzaman, A. B. M., Ahmad, H., and Ali, M. A. (1999) A Comparative Study of Copper Contamination in the Sediment