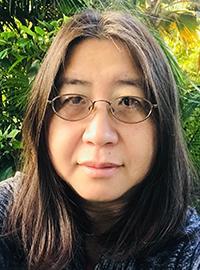 Office
Building B, Room B343
Educational History
B.S., Chemical Engineering, Tsinghua University (Beijing, China), 1995
Ph.D., Chemical Engineering, The Ohio State University, 2002
Research Interests
Stem cell technology and engineering
Tissue engineering and biomaterials
Cell processing and bioprocessing
Awards, Honors, and Memberships
Professional Affiliations & Qualifications
2009-2011, Principal Scientist, Group/Project Leader, Department of Process Sciences, Geron Corporation
2007-2009, Senior Scientist, Department of Process Sciences, Geron Corporation
2003-2006, Scientist II, Department of Product Development, Geron Corportation
2002-2003, Scientist, Department of Product Development, Geron Corporation
Professional Memberships
Member of American Chemical Society (ACS)
Member of American Institute of Chemical Engineers (AIChE)
Member of Biomedical Engineering Society (BMES)
Awards
Developing Scholar Award (2021), Florida State University
Geronosity Award, Geron Corporation
Award of Achievement, Geron Corporation
Presidential Fellowship, The Ohio State University
Publications
Peer-reviewed Journal Articles
R Jeske, X Yuan, Q Fu, BA Bunnell, TM Logan, Y Li*. In Vitro Culture Expansion Shifts Immune Phenotype of Human Adipose-derived Mesenchymal Stem Cells. Frontiers in Immunology. 2021, 12: 621744.
M Marzano, MJ Bou-Dargham, AS Cone, S York, S Helsper, SC Grant, DG Meckes, Q-X Sang, Y Li*. Biogenesis of Extracellular Vesicles Produced from Human Stem Cell-Derived Cortical Spheroids Exposed to Iron Oxides. ACS Biomaterials Science & Engineering. 2021, 7(3); 1111-1122.
X Yuan, Y Liu, BM Bijonowski, A-C Tsai, Q Fu, TM Logan, T Ma, Y Li*. NAD+/NADH Redox Alterations Reconfigure Metabolism and Rejuvenate Senescent Human Mesenchymal Stem Cells In Vitro. Communications Biology. 2020, 3; 774.
BM Bijonowski, Q Fu, X Yuan, J Irianto, Y Li*, SC Grant, T Ma. Aggregation-induced Integrated Stress Response Rejuvenates Stemness of Culture-Expanded Human Mesenchymal Stem Cells. Biotechnology and Bioengineering. 2020, 117: 3136-3149.
L Song, X Yuan, Z Jones, C Vied, Y Miao, M Marzano, T Hua, Q-X Sang, J Guan, T Ma, Y Zhou, Y Li*. Functionalization of brain region-specific spheroids with isogenic microglia-like cells. Scientific Reports. 2019, 9, 11055.
L Song, X Yuan, Z Jones, K Griffin, Y Zhou, T Ma, Y Li*. Assembly of human stem cell-derived cortical spheroids and vascular spheroids to model 3-D brain-like tissues. Scientific Reports. 2019, 9, 5977. (Top 100 papers)
L Song, Y Yan, M Marzano, Y Li*. Studying heterotypic cell-cell interactions in human brain using pluripotent stem cell models for neurodegeneration. Cells. 2019, 8, 299.
Y Yan, J Bejoy, M Marzano, Y Li*. The use of pluripotent stem cell-derived organoids to study extracellular matrix development during neural degeneration. Cells. 2019, 8, 242.
Y Yan #., J Bejoy #., J Xia, K Griffin, J Guan, Y Li*. Cell population balance of cardiovascular spheroids derived from human induced pluripotent stem cells. Scientific Reports. 2019, 9, 1295.
J Bejoy, Z Wang, B Bijonowski, M Yang, T Ma, Q-X Sang, Y Li*. Differential effects of heparin and hyaluronic acid on neural patterning of human induced pluripotent stem cells. ACS Biomaterials Science and Engineering. 2018, 4; 4354-4366 (selected for Supplementary Journal Cover).
Book Chapters
Y Yan, L Song, A-C Tsai, T Ma, Y Li*. Generation of Neural Progenitor Spheres from Human Pluripotent Stem Cells in a Suspension Bioreactor. Methods in Molecular Biology. 2016, 1502, 119-128.
S Sart, F Calixto Bejarano, Y Yan, S Grant, Y Li*. Labeling pluripotent stem cell-derived neural progenitors with iron oxide particles for magnetic resonance imaging. Methods in Molecular Biology. 2015, 1283, 43-52.
R Mandalam, Y Li, S Powell, E Brunette, J Lebkowski. Production of human embryonic stem cell derived cellular product for therapeutic use. Chapter 15 In J. Odorico, S-C. Zhang and R. Pedersen (ed.). "Human embryonic stem cells" BIOS Scientific Publishers. Oxon UK and New York USA, 2005, pp289-299.
Y Li, ST Yang. Stem cell-based tissue engineering. In D.R. Heldman (ed.). "Encyclopedia of Agricultural, Food, and Biological Engineering" Marcel Dekker, 2004, pp1-6.
Patents
Chunhui Xu, Yan Li, Ramkumar Mandalam. Medium for growing human embryonic stem cells. Issued United States Patent 7,455,983; Issued UK Patent GB2431165; Issued Canada Patent CA2573437; Issued EPO Patent EP1809739.
Ramkumar Mandalam, Yan Li, Isabelle Nadeau. Suspension culture of human embryonic stem cells. US Patent Application, 20100144033; Issued UK Patent GB2441488; Issued Canada Patent CA2613369; Issued EPO Patent EP1910516; With issued patent by Korea, China, Singapore.