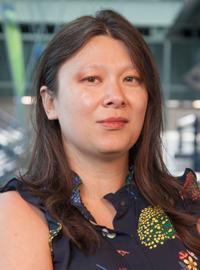 Educational History
Postdoctoral Fellowship, Department of Neurosurgery, Johns Hopkins University School of Medicine
PhD, Biomedical Engineering, McGill University, 2013
MASc, Biomedical Engineering, University of Toronto, 2006
BASc, Engineering Science, University of Toronto, 2003
Research Interests
Biomaterials
Tissue Engineering
Regenerative Medicine
Nanocarriers for Drug and Gene Delivery
Publications
Selected Publications:
Lina, I. A., Ishida, W., Liauw, J. A., Lo, Sheng-fu L., Elder, B. D., Perdomo-Pantoja, A., Theodros, D., Witham, T. F., & Holmes, C. (2018). A mouse model for the study of transplanted bone marrow mesenchymal stem cell survival and proliferation in lumbar spinal fusion. European Spine Journal, 28(4), 710-718.
Holmes, C. A., Ishida, W., Elder, B. D., Lo, Sheng-Fu Larry, Chen, Y. A., Kim, E., Locke, J., Taylor, M., & Witham, T. F. (2018). The Effects of High-Dose Parathyroid Hormone Treatment on Fusion Outcomes in a Rabbit Model of Posterolateral Lumbar Spinal Fusion Alone and in Combination with Bone Morphogenetic Protein 2 Treatment. World neurosurgery, e366-e374.
Nyberg, E., Holmes, C., Witham, T., & Grayson, W. L. (2016). Growth factor-eluting technologies for bone tissue engineering. Drug Delivery and Translational Research, 6(2), 184-194.
Elder, B. D., Holmes, C., Goodwin, C. R., Lo, S.-F., Puvanesarajah, V., Kosztowski, T. A., Locke, J. E., & Witham, T. F. (2015). A Systematic Assessment of the Use of Platelet-Rich Plasma in Spinal Fusion. Annals of Biomedical Engineering, 43(5), 1057-1070.
Holmes, C., Tabrizian, M., & Bagnaninchi, P. O. (2015). Motility imaging via optical coherence phase microscopy enables label-free monitoring of tissue growth and viability in 3D tissue-engineering scaffolds. Journal of Tissue Engineering and Regenerative Medicine, 9(5), 641-645.
Holmes, C., Daoud, J., Bagnaninchi, P. O., & Tabrizian, M. (2014). Polyelectrolyte Multilayer Coating of 3D Scaffolds Enhances Tissue Growth and Gene Delivery: Non‐Invasive and Label‐Free Assessment. Advanced Healthcare Materials, 3(4), 572-580.
Holmes, C. A., Tabrizian, M. (2013). Substrate-mediated gene delivery from glycol-chitosan/hyaluronic acid polyelectrolyte multilayer films. ACS Applied Materials & Interfaces, 5(3), 524-531.
Holmes, C. A., Tabrizian, M. (2012). Enhanced MC3T3 preosteoblast viability and adhesion on polyelectrolyte multilayer films composed of glycol‐modified chitosan and hyaluronic acid. Journal of Biomedical Materials Research Part A, 100(2), 518-526.
Book Chapters
Holmes C., Tabrizian M. "Surface Functionalization of Biomaterials" in Stem Cell Biology and Tissue Engineering in Dental Science, Elsevier/Academic Press. 2015