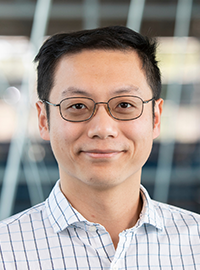 Office
Building A, Room A160
Educational History
Ph.D., Chemical & Biomolecular Engineering, University of Pennsylvania, 2017
M.S., Mechanical Engineering & Applied Mechanics, University of Pennsylvania, 2011
B.S., Bioengineering, Beihang University, 2009
Research Interests
Polymer foams and nanocomposites
Ionic liquids
Polymer field theory and simulation
Publications
Chao, H., Crosthwaite, J., Di Maio, E., Fitzgibbons, T., Ginzburg, V., Kornfield, J., Walker, P., Wang, Z., Ylitalo, A., & Zhou, W. (2022). Competition between CO2-philicity and Mixing Entropy Leads to CO2 Solubility Maximum in Polyether Polyols. Industrial & Engineering Chemistry Research, 61(34), 12835-12844.
Chao, H., Lian, Z., & Wang, Z. (2021). Effects of confinement and ion adsorption in ionic liquid supercapacitors with nanoporous electrodes. ACS nano, 15(7), 11724-11733.
Chao, H., & Wang, Z. (2020). Effects of surface transition and adsorption on ionic liquid capacitors. The journal of physical chemistry letters, 11(5), 1767-1772.
Chao, H., & Riggleman, R. (2018). Inverse design of grafted nanoparticles for targeted self-assembly. Molecular Systems Design & Engineering, 3(1), 214-222.